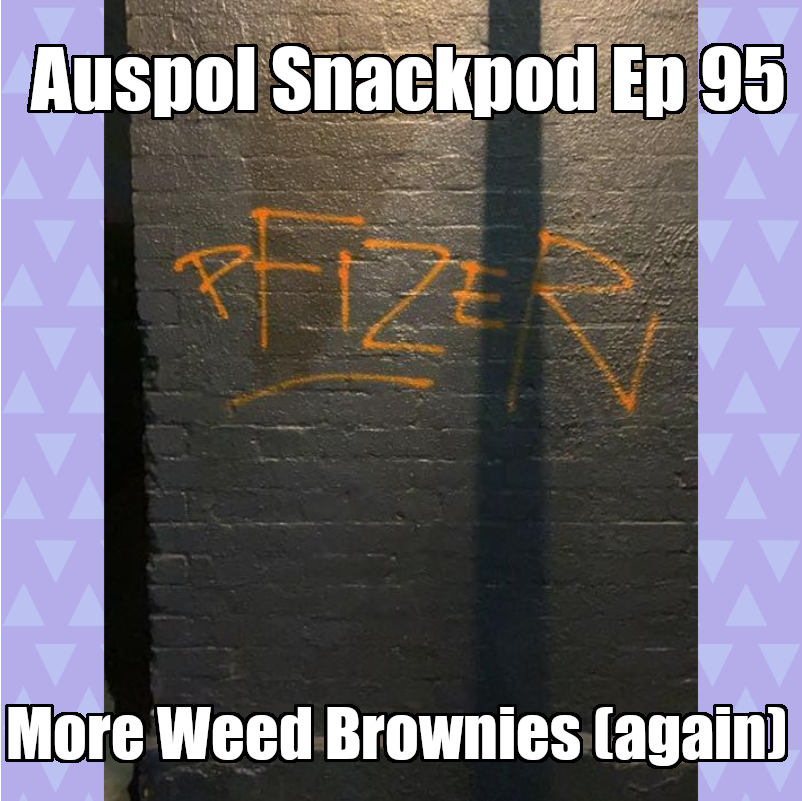 Welcome back to Auspol Snackpod, the podcast that hasn't figured out the format for its joke intros yet. We have another long episode for you all, starting with a tasty entree... 
Entree: Happy Weed Day / Hitler's Birthday - a brief update on the situation with marijuana in so-called Australia 
Blurst Take: Kristina K. Keneally loves torturing children in jails 
Positivity Corner: the Shenhua Watermark coal mine is cancelled! But... for terrible reasons. Also George Christensen quits Parliament, and Tom Sewell got doxxed 
Fashy Australia: CW for anti-trans stuff - you can skip from 25:20 to 37:10.
SPOTW: Bernardi. Cory Bernardi. Is serving up cringe, shaken not stirred. Plus an IRL SPOTW to whoever is tagging Pfizer around inner Melbourne 
UFU: It's the milkshake video. Sorry. 
First Nations: CW for discussion of Indigenous (and non-Indigenous) people who have died. You can skip from 1:00:00 - 1:15:00. Killer cops being charged here and in the USA. We talk a bit about the Chauvin conviction and what it means for Indigenous lives and killer police in Australia. 
Mains: Scott Morrison manages to totally embarrass himself and the country at international climate talks YET AGAIN. 
Broken Clock: Even our mining sector is better than our government on climate! 
And you'll just have to listen to the end for the Pupdate! 
Support the show financially and get a monthly bonus episode over at www.patreon.com/AuspolSnackpod
Watch the Cringy Bernardi ad here: https://twitter.com/cameronwilson/status/1384373251493666816 
Watch the Milkshake video here (if you really want to do that to yourself): https://www.abc.net.au/news/2021-04-20/nsw-premier-state-politicians-slam-milkshake-consent-video/100081296 
Share
|
Download