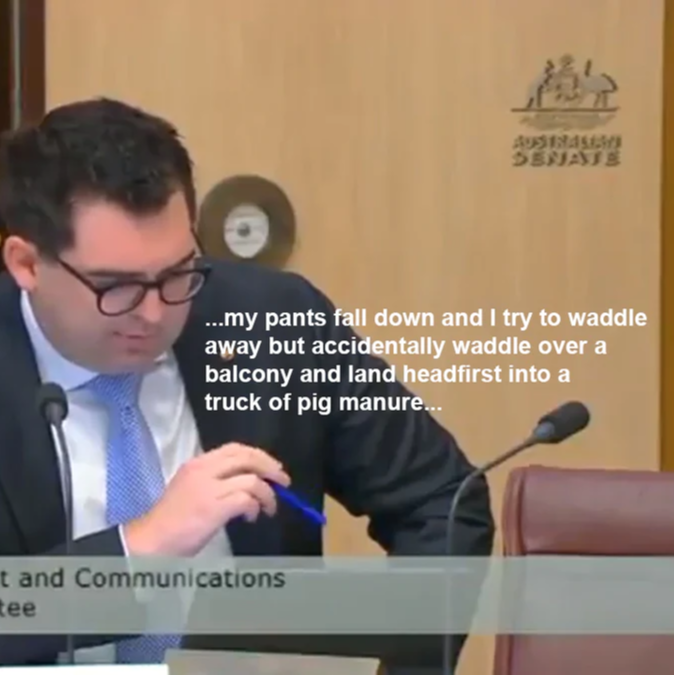 Shoutouts to the Snackpack - that is, you guys, our listeners, not the new podcast called the Snackpack. This week we're serving up:
Positivity Corner: The Christian Democrats Party are in big financial trouble
First Nations: Content warning for the name of an Indigenous person who has died, it runs from 9:44 - 11:11. We have a second story in this segment with no content warnings, it's about Ben Wyatt, the former WA Minister for Aboriginal Affairs, who has taken jobs with two mining companies. 
Fashy Australia: Two stories here as well - first, the Murugappan family continue to be physically and psychologically tortured for political gain. And second, Michelle Burgess, a former ALP figure, has joined the far-right, white supremacist Australia First Party.  (Go check out her facebook page.) 
SPOTW: Goes to Ben Jenkins with a lay-up assist from Liberal Senator Ben Small. Plus this week Gladys spawned a meme before it was hurredly murdered by other politicians. 
UFU: One of Australia's loudest Nazis, Tom Sewell, is in jail again.
Mains: Is actually quite a brief story that just didn't fit into our other segments this week, about changes to the Medicare schedule.
KOOK WATCH: Is a brand new segment where we talk about conspiracy theorists! For our inaugural Kook Watch we talk about the Victorian Liberal Party and their QAnon style conspiracies about Daniel 'Adrenochrome' Andrews. 
And you'll just have to listen to the end for our Pupdate!
Donate to Fella Morrison's family's legal costs: https://www.gofundme.com/f/justiceforfella 
Ban spit hoods in custody: https://www.change.org/p/banspithoods-stop-black-deaths-in-custody 
Support the show: www.patreon.com/AuspolSnackpod 
Share
|
Download